Inalco Alumni Hong-Kong: French May - Private Visit of "Steles" Exhibition with Caroline Bouquet - Tribute to Victor Segalen's Poetry
Inalco Alumni Hong-Kong: French May - Private Visit of "Steles" Exhibition with Caroline Bouquet - Tribute to Victor Segalen's Poetry
2020-06-05 16:00:00
2020-06-05 18:00:00
https://alumni.inalco.fr//medias/image/thumbnail_3962253505ecd20f71f107.png
Nockart Gallery
16/B Kwai Bo Industrial 40 Wong Chuk Hang Road
Aberdeen
00000
FR
In the context of the French May Festival in Hong-Kong, members of Inalco-Alumni group will have the pleasure to enjoy a private visit of "Steles" Exhibition with Caroline Bouquet, a tribute to French writer Victor Segalen (1878-1919) and his poetry work 'Steles'.Victor Segalen's famous travel writings gave a direct expression of his vision, belief and aspirations. He traveled extensively throughout Polynesia and China. Segalen wrote novels, as well as travelogs, collections of poetry, essays, plays, and much correspondence. Taken together, his work is understood to be among the more significant expressions of an early modern sensibility.The French School of Hong Kong was named after him. Caroline Bouquet Caroline Bouquet studied Fine Arts in Versailles and History in La Sorbonne, Paris.As a painter and print-maker, her work focuses on Segalen's poems about the mileage stones encountered on his journeys in China and Asia.  Appropriating the explorer's travels Bouquet translates them into collage and elegant visual artwork.Nockart GalleryNockart Gallery is proud to present a series of paintings and engravings by the French artist Caroline Bouquet. The artist's interpretation of Segalen's poetry book 'Steles' will give the audience a contemporary dialogue between the real and imaginary world.Video Steles behind the scene: https://www.facebook.com/CarolineBouquetArtist/videos/1192091091140358/?t=1
https://alumni.inalco.fr/event/inalco-alumni-hong-kong-french-may-private-visit-of-steles-exhibition-with-caroline-bouquet-tribute-to-victor-segalen-s-poetry/2020/06/05/712
La date limite de clôture des inscriptions est passée.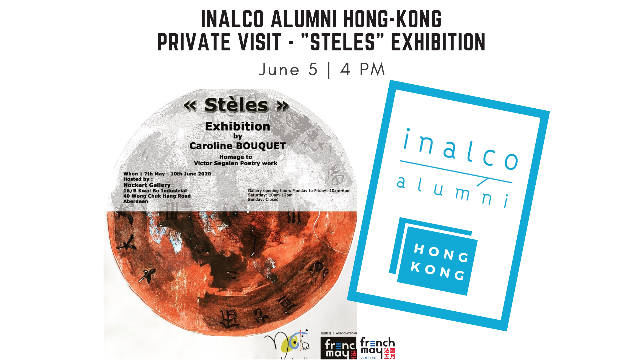 In the context of the French May Festival in Hong-Kong, members of Inalco-Alumni group will have the pleasure to enjoy a private visit of "Steles" Exhibition with Caroline Bouquet, a tribute to French writer Victor Segalen (1878-1919) and his poetry work 'Steles'.
Victor Segalen's famous travel writings gave a direct expression of his vision, belief and aspirations. 
He traveled extensively throughout Polynesia and China. Segalen wrote novels, as well as travelogs, collections of poetry, essays, plays, and much correspondence. Taken together, his work is understood to be among the more significant expressions of an early modern sensibility.
The French School of Hong Kong was named after him. 
Caroline Bouquet 
Caroline Bouquet studied Fine Arts in Versailles and History in La Sorbonne, Paris.
As a painter and print-maker, her work focuses on Segalen's poems about the mileage stones encountered on his journeys in China and Asia.  
Appropriating the explorer's travels Bouquet translates them into collage and elegant visual artwork.
Nockart Gallery
Nockart Gallery is proud to present a series of paintings and engravings by the French artist Caroline Bouquet. The artist's interpretation of Segalen's poetry book 'Steles' will give the audience a contemporary dialogue between the real and imaginary world.
Video Steles behind the scene: 
https://www.facebook.com/CarolineBouquetArtist/videos/1192091091140358/?t=1