Inalco Alumni Shanghai : Fête du 14 Juillet 2020
Inalco Alumni Shanghai : Fête du 14 Juillet 2020
2020-07-14 18:00:00
2020-07-14 23:30:00
https://alumni.inalco.fr//medias/image/thumbnail_1579835075f086d114054d.jpg
Fosun Foundation
200, Zhongshan East Road HUANGPU SHANGHAI
Shanghai
CN
Bastille Day, held every year on the 14th of July, is a key event to honor the French National spirit. On this occasion, CCI FRANCE CHINE will organize a special evening where all lovers of French Culture are welcome. An opportunity to bring together the Sino-French community and share a moment of lightness in this time. And to sublimate this evening, CCI FRANCE CHINE has the pleasure to hold this event at a centerpiece of the Bund Finance Center, the Fosun Foundation. PROGRAM    6:00pm - 7:00pm: Welcoming drinks    7:00pm - 7:30pm: Speech by Consul general of France in Shanghai, Mr. Benoit Guidée and CCI FRANCE CHINE President, Mr. Christophe Lauras    7:30pm - 9:00pm: Cocktail dinner    9:00pm - 11:30pm: National Day Celebration VENUE With its stunning moving facade, the Fosun Foundation is a new culture and arts building set on Shanghai's waterfront. Discover this majestic venue and its fourth-floor rooftop well-known for its installation artwork "Counter Sky Garden" designed by renowned Japanese artist Tatsuo Miyajim.https://www.ccifc.org/e/event/french-national-day-celebration.html
https://alumni.inalco.fr/event/inalco-alumni-shanghai-fete-du-14-juillet-2020/2020/07/14/719
La date limite de clôture des inscriptions est passée.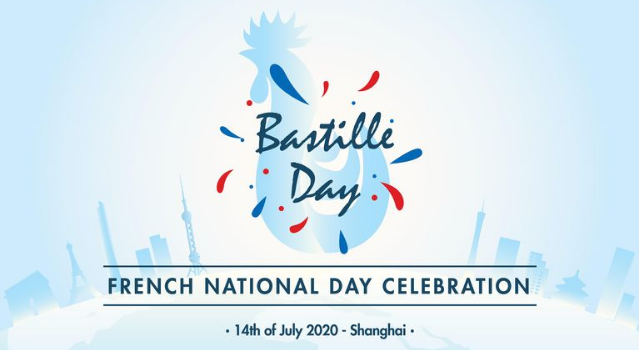 Bastille Day, held every year on the 14th of July, is a key event to honor the French National spirit.
On this occasion, CCI FRANCE CHINE will organize a special evening where all lovers of French Culture are welcome. An opportunity to bring together the Sino-French community and share a moment of lightness in this time. And to sublimate this evening, CCI FRANCE CHINE has the pleasure to hold this event at a centerpiece of the Bund Finance Center, the Fosun Foundation.
PROGRAM
6:00pm - 7:00pm: Welcoming drinks
7:00pm - 7:30pm: Speech by Consul general of France in Shanghai, Mr. Benoit Guidée and CCI FRANCE CHINE President, Mr. Christophe Lauras
7:30pm - 9:00pm: Cocktail dinner
9:00pm - 11:30pm: National Day Celebration
VENUE With its stunning moving facade, the Fosun Foundation is a new culture and arts building set on Shanghai's waterfront. Discover this majestic venue and its fourth-floor rooftop well-known for its installation artwork "Counter Sky Garden" designed by renowned Japanese artist Tatsuo Miyajim.
https://www.ccifc.org/e/event/french-national-day-celebration.html
Diffusé sur :
Anciens élèves et étudiants en échange à Shanghai